Anouck: a dingdingdong portrait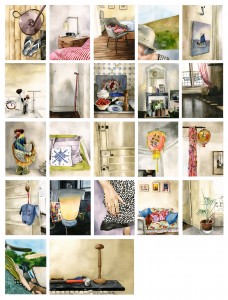 The 22 paintings are taken from the book Anouck – dingdingdong portrait n°1 by Alexandra Compain-Tissier (paintings) and Alice Rivières (texts, in French and English), to be published by Dingdingdong Editions in October 2013.
To support this publication, Dingdingdong is opening an online art sale on dingdingdong.org.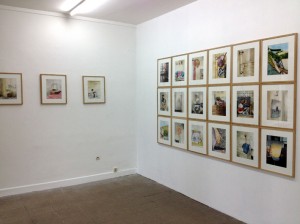 About the book Anouck – portrait dingdingdong n°1 :
A painter and a writer are each creating a portrait of Anouck, a woman in her late sixties who is affected by Huntington's disease. With gentle strokes and fragments, they reveal the delicate appearance of all that is sparkling in and around her. Without aiming to, their work becomes a gesture of love, protection – an act of care.
« Anouck is the portrait of a woman of nearly seventy years old, who is the mother to one of us, and who suffers from Huntington's disease. It is not a book on the disease but the accomplishment of an intense moment of learning – one can even say of revelation for both of us: to learn to paint and to write the imperceptible, the fragile and the precious in the experience of this person who knows how to create each day some harmony with her illness. » Alexandra Compain-Tissier et Alice Rivières
Alexandra Compain-Tissier
Alexandra Compain-Tissier is a painter specialized in portraits. She expresses herself through watercolors and drawings. Bachelor of Beaux-Arts de Cergy (France), she works in Paris. www.alexandracompaintissier.com
Alice Rivières
Alice Rivières is a novel's character who began her adventures when she learnt that she was positive for Huntington's Disease. Since then, she writes and publishes regularly some reports of her huntingtonian explorations, mostly on dingdingdong.org.